Technology has become a key part of our lifestyles. The Women Tech Council highlights, showcases and talks about leading technology trends, products, apps and gadgets that are becoming part of our every day lives.
Check out our segments covering everything from Travel Apps, to mobile gadgets, to the hottest toys and STEM products for your family.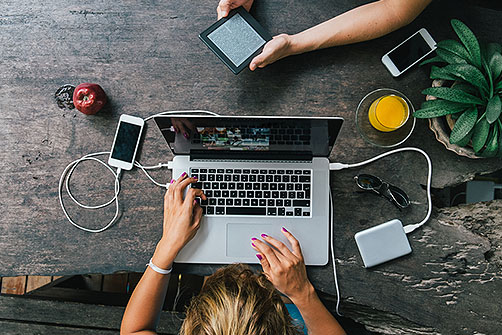 On December 14th the FCC will vote to roll back Obama-era net neutrality regulations. Phil Windley from the BYU Computer Science department joined Cydni Tetro, President of Women Tech Council, to discuss what exactly net neutrality is and how it affects the way you use the internet.
Technology has the ability to improve lives, enhance creativity, drive innovation, and also provide hours of fun. Cydni Tetro joins KSL to show off the tech Women Tech Council is most grateful for this year. Products shown are HUD, Logo Maker, Apple Face ID, and the Nintendo Switch.
It's Women Tech Council's 10th Anniversary month! Cydni Tetro and Sara Jones join KSL to show off some apps to help you plan and pull off the best party. Discussed are Hobnob, Adobe Spark Post, and Cluster.
Women Tech Council announced their industry-led, statewide, annual university program Student Innovators. The program provides a platform to retain and graduate female students in STEM degrees. Learn more about Women Tech Council Student Innovators here.
So often when we take photos of fireworks they turn out blurry. Cydni Tetro discusses the best practices for capturing that beautiful fireworks display with just your simple camera phone.
Emily King, Marketing Manager of Chatbooks and Maile Keone, Chief Revenue Officer of Listen Technologies, join Cydni Tetro on this episode of Tech Talk to discuss the ways in which companies are attracting and retaining female talent and the impact it has on the bottom line.
This segment highlights apps that will take the stress out of your vacation planing and allow you to focus on making memories. From finding unique activities to less expensive car rentals- these apps will save you time and energy on all your trips this summer. Discussed are UTrip, Flightstats, Flightview, Turo, Uber, and Grab.
When your kids are walking around the neighborhood on Halloween night, it's easy to worry. In this segment, Cydni Tetro shows off some technology that will make a night of trick-or-treating just a little more safe. Shown are LED trick-or-treat buckets, the Glympse app and the Verizon GyzmoGadget.
Springtime Tech Wearables
Have fun in the sun with tech wearables perfect for spring and summer. Discussed are video-recording sunglasses, a camcorder that can hang from your pocket, Pocket Juice, and UV Bracelet, June.
Women Tech Council strives to provide opportunities for girls to have access to STEM education. One way we do this is through SheTech Explorer Day. At SheTech, we have a variety of hands-on activities that get girls engaged and interested in STEM. These chemical reactions are examples of some of the fun activities held at Explorer Days.
As the tech industry grows, getting kids coding at a young age is vital. That's why we've partnered with Dell EMC to create the Hour of Code, a program that helps kids and teens learn the fundamentals of coding in an easy and visual way.
CES Highlights brought to you by GOED