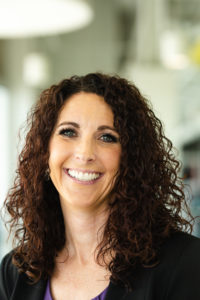 Beth is an integral part of the Northrop Grumman team. As Chief Engineer, she leads a team of more than 15 engineers, producing over 40 composite parts for the F-35 Joint Strike Fighter. Her dedication to the success of the program has enabled NGIS to earn the 2019 "Supplier Certificate of Recognition" award from Lockheed Martin. A coveted award given to only two of its 2,500 suppliers.
In Beth's roll as a Manufacturing Engineer, she optimized the fabrication process of the Rolls-Royce Rear Fan Case, resulting in an astounding $22 million cost savings.
Unlike many engineers, Beth is an extrovert. Because of her excellent communication skills and her likable personality, she was selected to represent the company in a nationwide marketing campaign focused on gaining support for the FA-22 Raptor aircraft. Beth was featured in a variety of print and radio ads.
She is also a leader in the STEM community, empowering young women in STEM as a presenter for the Expanding Your Horizons workshop, she's a member of the company SHETECH demonstration planning committee, a STEM fair judge, Weber State University Prep Summer Program speaker, and STEM Expo company representative.
Beth also exemplifies leadership in her personal life. When she found out she wasn't a match for her brother's lifesaving kidney transplant, she entered into a pair exchange program, allowing her to donate to a stranger, and having that stranger's donor donate to her brother. In 2018, Beth gave a perfect kidney to a 3-year old boy who had lived most of his life on dialysis, enabling her brother to also receive a kidney, saving the lives of two people.
Beth attributes all of her successes to the teams she works with and enjoys watching each individual have their own successes.