Multiplying The Impact Of Women In Tech
Above all others, 20 actions multiply the positive impact women make in technology. Throughout 2020, Women Tech Council will announce these actions and provide ways for technology companies and community members to engage in helping grow this multiplier impact even further.
Join us in creating the experiences that propel women in tech and grow the entire technology sector.

Over the past month, we have all felt the deep and profound social, economic and emotional impacts of this global pandemic. Like all of you, we've missed simple social interactions with friends and coworkers, postponed family gatherings for holidays and special occasions, worried about the economy, and felt the disappointment of shifting plans or lost expectations from the canceled school year and graduation celebrations. None of us could have ever predicted these circumstances, and all of us are grappling with the far-reaching effects of social distancing and this new normal. 
In this time of challenge and uncertainty on so many fronts, we are unveiling the next word in our 20X series—a program that highlights the 20 actions that multiply the impact of women in tech, and therefore help build our entire technology community. The word is UNITE. 
Amidst all these challenges, we have been amazed at the strength and resilience of the individuals and organizations in our technology community, and their desires to give back and help others during this critical time. We know that the more we come together and unite even in this time of distance and isolation, the stronger we will be and the faster we will recover in every way. 
So many have been making great efforts to unite during these times, including:
Our incredible advisory board has been coming together every week for a call to brainstorm solutions, offer support and share innovative ideas that are helping individuals and organizations innovate during this time. We thank them for their work and leadership that is making big impacts throughout the community. 

So many companies have shared best practices for everything from improving safety and supporting customers to maintaining company culture and boosting the local economy, including:

Cassie Whitelock shared how Bamboo HR is committed to build programs around needs, not budgets, including employing new efforts to create employee connections that are very different from measures in a more traditional work environment. 

Kim Wittman from Vivint talked about their dedication to keeping employees safe by screening customers and technicians before home visits and setting proper expectations for social distancing on job sites and in people's homes. 

Brian Verwer shared how Micron has implemented innovative methods for reducing staff interactions between employees essential on site and efforts to support local health efforts by changing operations to repair ventilators. 

Laura Butler of Workfront gave us a view of their short and long term recovery and employee support plans, including preliminary plans for helping keep employees safe when people start to return to the office. 

Wendy Steinle shared about  Adobe's strong culture of being involved and giving back is continuing through a portal with 30 work from home volunteer opportunities. 

Tara Rosander of MX shared how they are working to continue stimulating the local economy by offsetting negative impacts of their new remote workforce. They are using vendors who used to provide food services for employees to donate food to hospitals, first responders, or other groups helping with COVID-19 response.

Jill Wiggins from ForgeDX shared how they have increased employee flexibility to accommodate for homes that now have two parents working and children at home without school or childcare, such as allowing for later working hours after bedtimes. 

Julie Kehoe shared how DOMO has donated time and resources to develop

domo.com/covid19

, a COVID tracker that synthesizes data from multiple sources into a comprehensive data dashboard with updates every 10 minutes. This information is helping businesses make educated and important decisions. 

So many companies and individuals have united with us to help make possible our SheTech Live Virtual Summit on April 30. Like our Explorer Day event, this summit will help thousands of high school girls discover STEM careers and make meaningful connections to inspire them in their educational journey. Even in a different format, the need for girls to have an opportunity to make these real connections and be inspired to persevere through challenges has never been greater. 
There are countless other examples of those in our community working to unite together and help each other during these times. Please join us and them in doing what you can in your circle to unite with those in our community and help create impact to help fight COVID-19.
Amplifying the women leading technology organizations, driving innovation and growing the tech community accelerates their impact, reach and opportunities. This positive recognition and expansion of their work multiply their contributions, creating positive growth for companies, colleagues and the entire community.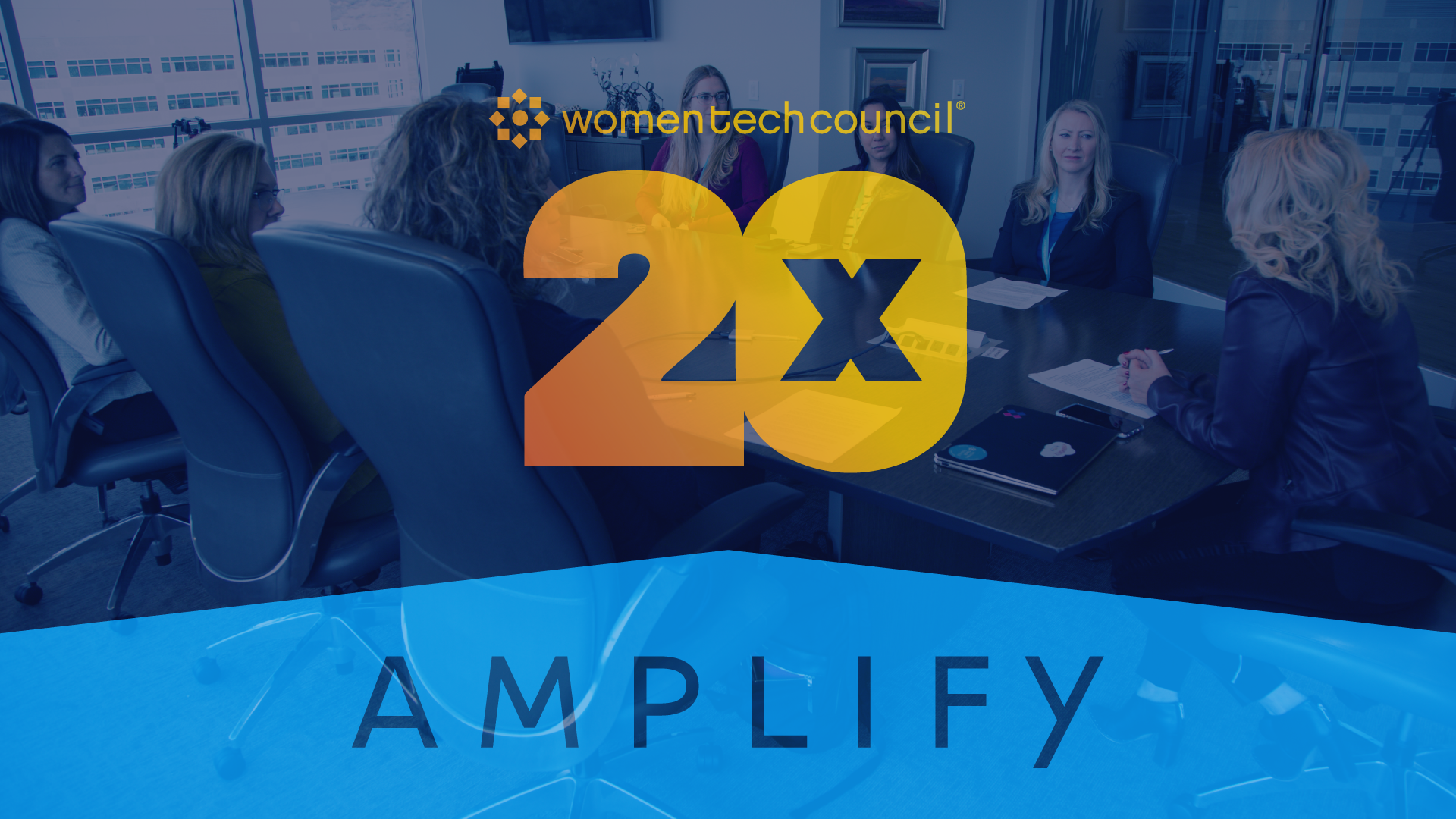 Women Tech Council is amplifying women in technology by highlighting women in the tech community each week through Women Tech Wednesday. From technology leaders to product developers and STEM advocates, each will show the positive multiplier effect women have in tech and spur additional community growth.
Be part of this positive impact and amplify women in tech by participating in Women Tech Wednesday and recognizing similar women in your circle.
"A mentor is someone who allows you to see the hope inside yourself." — Oprah Winfrey
Kicking off the second action of our 2020 20X impact campaign is to MENTOR. Mentors and Mentoring are important to our career and personal development. At every stage of our journey we need mentors to help us navigate, identify our potential, inspire us to be better and solve tough problems.
BE A MENTOR
The Women Tech Council community is full of amazing women and men that are helping each other. A great way to activate around mentorship is to volunteer to Mentor the SheTech high school girls. On April 15, 3000 high school girls will come together for SheTech Explorer day. We need 300 mentors to participate in the TechChallenge that afternoon and work with the girls. So sign up to be a Mentor today.
You will make a difference in the life of a student and change what they believe they can achieve. One of our students told us this week "I realized that my dream was truly in tech, and I was able to really find what I was truly passionate about."
SHARE YOUR MENTORSHIP STORY
As part of the action to Mentor please share on social a story about how a mentor has helped you or what you have learned from your mentors. When you share please tag us @womentechcouncil and help us show the impact #mentors have.
ACTIVATE YOUR COMPANY TO MENTOR 
Last year the Governor signed in March 20 as 'Utah Girls in Tech Day'. We are asking all companies in our community to plan an activity to engage girls in tech. As you share with us your plans  we will amplify them across the entire state. This can include a job shadow afternoon, a lunch and learn with your employees, interactive experiences, user testing, a company tour or building something. Please share your plans with us - email Kristin@womentechcouncil.com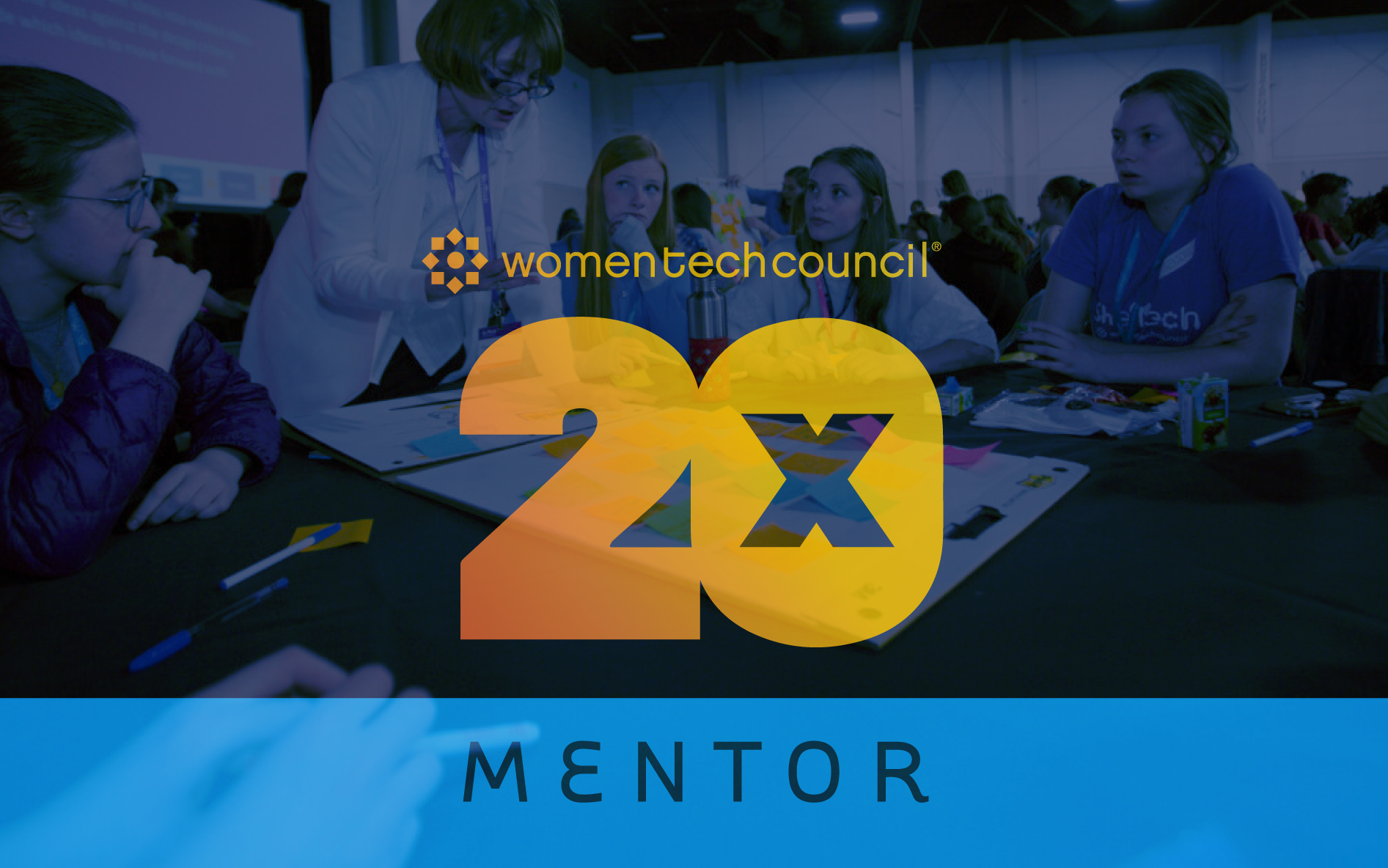 LEARN FROM MENTORS
The Women Tech Council is here as a resource for you as you are developing programming for women in tech groups within your company,  we have resources that can come in and share best practices on women in leadership, diversity & inclusion, career pathways and women in technology.
We are happy to help connect you with speakers, please fill out this form and we will reach out.
"Don't aim to break the glass ceiling; aim to shatter it." - Matshona Dhliwayo
Unite with us as we recognize individuals, companies and efforts that SHATTER the glass ceiling in tech. From equal pay and recruiting representation to inclusive environments and diverse teams, these measures shatter obstacles and barriers for women in tech. 
HELP SHATTER BARRIERS
The Gender Gap in Tech and How to Fix It is a report released by the Women Tech Council last year which outlines areas companies need to focus on to shatter the gender gap in tech. The report identifies four key areas technology companies need to accelerate the creation of more inclusive and diverse teams and cultures for women in tech:
Executive engagement (active support from the CEO, executive team and all leadership)

Company programming (currently has women in executive leadership positions and proactively implements programs to support women in technology)

Community investment (active participation with the broader community to learn from and share best practices regarding culture and inclusion)

Women's or Diversity & Inclusion group (formal programs to support women internally)
LEARN FROM BEST PRACTICES
Read about best practices companies are using to Shatter barriers.
HEAR ABOUT WHAT COMPANIES ARE DOING
Watch companies talk about what they are doing to Shatter obstacles.
Dan Burton, CEO, Health Catalyst
Wendy Steinle, Utah Site Lead, Adobe
Laura Butler, Chief People Officer, Workfront
Jeff Weber, Chief People Officer, Instructure