Talent Innovation Summit
The annual Talent Innovation Summit provides an opportunity to highlight how companies are attracting and retaining women in tech. Tech professionals from across the state gather to hear keynote speeches, a best practices pitch competition and see the companies that made it on the WTC Shatter list.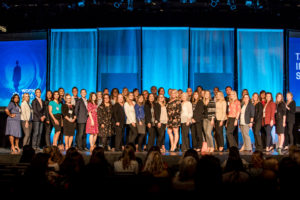 Our companies, careers and colleagues are facing constant change, and the rate of change is accelerating. With the chaos of this ever-changing talent landscape, we need to maintain forward momentum, not fall back in our important gains for women in tech.
Join us for this year's Talent Innovation Summit, where technology leaders and community members come together to talk about these changes, their impact, and how to remain constant and make progress in the things that matter.
Event Details:
Thursday April 27
8:30-12:00
Zions Technology Center
7860 Bingham Jct Blvd
Midvale, UT 84047
Breakfast provided
Event Agenda:
Breakfast and Check-in
WTC Insights: Impact of Constant Change on Women in Tech
How Change Is Impacting Women in Tech
The World Turned My Business Upside Down – Katie Neilson, President, Assure
Fundraising In The Toughest Climate Since 2009 —Emily Applegarth, CEO, Gamify
From SheTech to Domo Intern — Manya Nair, Domo Intern, University of Utah student
Taking a Breath in your Career — Jen Gray Marketing and Operations Exec
How I Lead Through Economic Uncertainty– Janay Jespersen, SVP People Strategy, CommerceHub
Keeping Momentum in DEI — Carlisha Robinson, CPO, Overstock
CEO Conversation: Why Women Tech Award Finalists Joined Entrata Over the Last 2 years
Adam Edmunds, CEO, Entrata
Company Conversation: Best Practices That Work In Constant Change
Zions Bancorporation

CHG Healthcare

Swire Coca-Cola

NICE
The State of Child Care in Utah
Kabi Catalano Executive Director, Utah Community Builders
Community Updates: Making Progress
Tech Moms – Mikel Blake
Club Ability – Juliette Bautista
The Period Project – Kristin Andrus
Kinect Capital – Maile Keone
Discussion: The Broken Rung & Why It Matters
Julie Simmons CIO, Swire Coca-Cola
Vance Checketts COO, Built for Teams
Catherine Wong COO/CPO, Entrata
Tara Rosander M&A Corp Development, Brandless
Shatter List Award Presentation
Networking & Lunch Available for Purchase at Zions Cafe
Check Out  Summit Highlights