Talent Innovation Summit
The annual Talent Innovation Summit provides an opportunity to highlight how companies are attracting and retaining women in tech. Tech professionals from across the state gather to hear keynote speeches, a best practices pitch competition and see the companies that made it on the WTC Shatter list.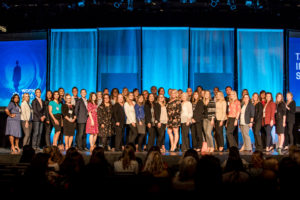 After two years that have fundamentally transformed our talent landscape forever, we're excited to announce this year's Talent Summit: From Resignation to Reinvention on May 4. May the fourth be with us as we discuss insights on:
The new talent market and forecast
The fundamental shifts companies and leaders must make
How to drive your career destiny
What everyone from entry-level to executives should be focused on moving forward
In addition to the Shatter List companies, this event will highlight companies that are implementing best practices to attract and retain talent. And of course, we'll also commemorate the events that took place a long time ago in a galaxy far, far away.
May 4, 2022, 8:30am-1pm

Show Barn at Thanksgiving Point
2975 N Thanksgiving Way, Lehi, UT 84043
The Women Tech Council's Talent Summit is the only place you can hear so many great conversations, like:
How to think about the pathway to the c-suite and boardroom with Carine Clark, 3-time CEO, Blake Modersitzki, a leading venture capital investor, and Victoria Sassine, a public board member.
How to reinvent yourself – Hear directly from women in tech about their stories of reinvention over the last 2 years.
The great work companies are doing to retain talent and build employee-focused environments.
You don't want to miss this opportunity to network, be inspired, and hear from great companies and people about careers and growth.
Event Agenda
Stories of Reinvention
Jill Wiggins – Sr. Director, Contentsquare
Juliette Bautista – Founder and Director, Club Ability
Meghan Stettler – Director, O.C. Tanner Institute
Renae Flores – Technical Support, Degreed
Shannon Peterson – CEO, Woobie
Selma Milkota – Marketing Product Manager, O.C. Tanner
Seraphine Kapsandoy Jones – VP Population Health, Centene Corporation
Pathway to the C-Suite Panel
Blake Modersitzki – Managing Partner, Pelion
Carine Clark – Operating Partner, Pelion
Victoria Sassine – Board Director, Scale Smarter Partner
2022 Employee Experience Report
Jamie Morningstar – Engineering Leader, Qualtrics
Company Best Practices for Attracting and Retaining Female Talent
CHG Healthcare
Passive Logic
AvidXchange
Lucid
Employee Engagement Insights
Julie Kehoe – Chief Communications Officer, Domo
Architecting Change Panel: Increasing the number of Women in Tech
Julie Simmons – CIO, Swire Coca-Cola
Aniza Brown – Director, Campus Catalyst for Technology and Innovation
Jennifer Smith – EVP and Chief of Technology and Operation, Zions Bancorporation
Vance Checketts – COO, Artemis Health
2022 Shatter List Awards Presentation
Networking Lunch
The Great Reinvention is happening—and it's your turn. Whatever your career is, now is the time to reinvent yourself in tech to discover your mission and drive your career destiny.

Check Out  Summit Highlights