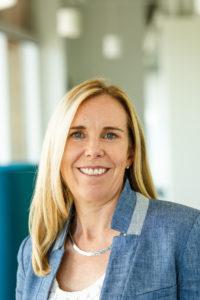 Christie Kent is the Chief Financial Officer for SirsiDynix, a library software company in Lehi. She is responsible for Accounting, Financial Planning & Analysis, Sales Operations and Human Resources at SD.
Prior to joining SirsiDynix, Christie held executive and senior leadership positions in software and SaaS industries. Her 20-year finance career has involved investment banking, strategic growth and M&A activity, as well as consulting and leadership roles in corporate finance focusing on financial planning and analysis.
Christie received her Bachelor of Business Administration in finance from the University of Iowa, and her MBA in finance from the Booth School of Business at the University of Chicago.  She is a member of Financial Executives International, Women Tech Council and Silicon Slopes Executive Chapter.
Christie lives with her husband, two children, and very lovable dog in Park City.  In her free time, she enjoys hanging out with family, friends and her dog while enjoying the outdoors.  Specifically, you can often find her mountain or road biking, skiing or hiking.  She has also been active in supporting her children's schools through volunteer work, including being president of the board of their preschool and a member of the school community council, in addition to countless volunteer hours in classrooms and school activities.