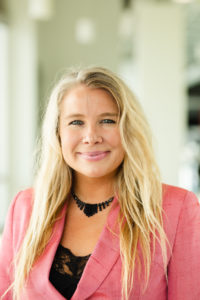 Erin Valenti brings more than 15 years of cross-functional leadership expertise building and investing in disruptive technology companies. She is the Founder & CEO of Tinker, a product development agency and venture studio.
At Tinker, Erin manages a global team of 120 employees across their Salt Lake City and Lahore, Pakistan offices. Tinker has built over 700 products including mobile apps, SaaS applications, tech enabled marketplaces and consumer websites. She has worked for brands including Facebook, Skullcandy, LiveNation, Pearson, MetroPCS, and several emerging startups. She is currently focused on developing software and product development training programs, rapidly scaling revenue and launching a web content series on innovation and creativity.
Prior to forming Tinker, she was the Head of Product Development for Overstock.com, where she oversaw a team of 250 engineers. She helped form Overstock's internal corporate venture capital group, now Medici Ventures, by leading the first 5 investments in blockchain companies.
Earlier in her career, Erin was the founder and CEO of Skycrane, a work-for-hire marketplace, and Springboard Accelerator portfolio company. She worked as a venture capital investor at Summit Partners, a $20 billion fund. While there, Erin led direct investments in the communication and fintech sectors, she managed a team of associates and assisted with an IPO and two M&A transactions.
Erin is passionate about helping underdog entrepreneurs and thinking about what the next moonshot idea will be. She founded SLC Tech Startups, a professional networking group in Utah, where she actively organizes events that provide the opportunity to learn, create and connect.
Erin holds a B.S. in Business Administration, summa cum laude, from Georgetown University where she majored in Finance and International Business. Erin and her husband live in Salt Lake City Utah, where they spend their free time climbing rocks, descending canyons or chasing powder.