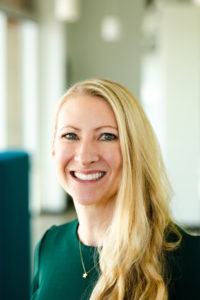 Heather is the global head of Technology Client Event Services, which provisions over 1,200 products for ~36,000 Goldman Sachs employees worldwide. She joined Goldman Sachs in 2000 by way of the Spear, Leeds and Kellogg acquisition and was named Vice President in 2006. She relocated from New York to Salt Lake City in 2011 to join the Technology Client Services team.
Heather leads the Women in Engineering network in Salt Lake City and is passionate about offering programs focused on enriching the careers of women in Technology. She is also a Campus Recruiting Diversity Champion, member of the firm's scouting and interview teams and a member of the Salt Lake City People Development Committee. In 2019 Heather was added to the advisory board of Women Tech Council.
Through Goldman Sachs' Community TeamWorks program, Heather partners with the Girl Scouts of Utah, annually leading a team of volunteers tasked with preparing Camp Cloud Rim which supports ~2000 girls each summer. Heather also partnered with Utah STEM Action Center to identify community engagement opportunities, ultimately leading STEM workshops for Middle and High School children. She and network volunteers also assist with Hour of Code events sponsored by Goldman Sachs Engineering.
Heather has had various IT roles during her career working for large corporations such as Salomon Smith Barney and CA Technologies. She has experience in managing technology operations, voice technologies, process re-engineering, business continuity planning, reporting, data analytics, service center management, and product management.
Heather graduated magna cum laude from New York Institute of Technology with a BA in Communications. She resides in Park City, UT with her husband and their two young sons. In her spare time, Heather enjoys being outdoors with her family hiking, snow-shoeing, and paddleboarding.