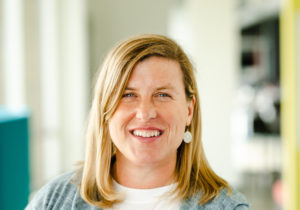 Kari Hensien is a product leader with over 25 years of experience in product, marketing, and user experience. Hensien has always worked hard to strike a balance between family and work, which is how she found herself living in Utah's Silicone Slopes to support not only her career, but her husband's tech-based career as well as her daughter's aspirations as a competitive junior alpine skier.
Hensien started her tech career in 1992 at Microsoft, beginning as a product support specialist, quickly moving into product marketing for Microsoft Office, and then to product management and product planning for the Office family of products. In that position, she managed a large global planning team responsible for the innovation process of the Microsoft Business division.
Eager to gain experience in a Seattle's booming startup community, specifically in the field of machine learning and data science, Hensien left Microsoft in 2013 to join Optimum Energy. While there, she helped the company design, build, and launch machine learning modules that optimize energy consumption of large chiller-driven buildings and campuses. From there, Hensien moved to Utah where she joined Workfront to manage product and user experience departments.
As a lifelong learner, Hensien is constantly looking for ways to expand her knowledge and keep current in the fast-paced tech community. In the past 5 years, Hensien has earned a certificate in machine learning and data science, became a certified scrum product owner, and earned her certification in pragmatic marketing. Hensien now is proud to work at RizePoint in Cottonwood Heights, serving as Vice President of Product and Brand Experience, driving product strategy and helping the business pivot to support customer's quality and safety across the supply chain.