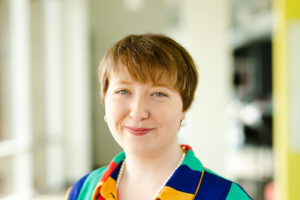 Karla Renee is an Associate Content Manager who works with in-house creatives, freelance writers, and agency partners to craft compelling content that achieves business goals.  Karla believes that great brands tell greater stories, balancing art & science to deliver thought leadership and valuable resources to their audiences. At Lucidpress, Karla is responsible for brand voice, editorial style, social media, blogging & web content.  Under her leadership, the Lucidpress blog tripled its traffic in 2018 and is now on track to surpass 1 million views for 2019.  She also built out its resource library with a number of ebooks, including a 10-chapter guide titled Branding for Real Estate.
Karla is proud to be part of the Utah technology community and its rich legacy in the state.  Previously, she served as content manager for Bask Technology, where she also managed PR and SEO.  With her agency partners, she drove over 200 media placements for the brand by using customer surveys to uncover press-worthy insights.  Before that, she served as a content team lead at Boostability, managing a team of in-house writers to produce over 100,000 words of SEO-optimized content every month.
Serving others is important to Karla, and she seeks out ways to make a difference.  At Lucid, she led the Meals on Wheels team for six months, coordinating a group of volunteers to deliver hot lunches to local seniors.  She has also volunteered at Tacofest, WallaBee, and Utah Geek Magazine.  Her favorite volunteer experience was working with an artist in East London to write & distribute a press kit for their third album (Organs by Gem Milsom).
Karla holds a BA in Marketing with a Spanish minor from the University of Utah, where she accepted an Honors at Entrance scholarship.  She recently married the love of her life, Sam, and is looking forward to starting a family.